U.S. Politics:
Cheney's Heart, July 1, 2001
Lois Rodden Data Update:
Richard Bruce Cheney
January 30, 1941
7:30 PM CST +6:00
Lincoln, Nebraska
40N46 96W40
Asc: 2 Virgo
[See also, Dick's Ticker from Election 2000.]
July 1, 2001 Update
"Terrific' prognosis for Cheney"

MSNBC: "'A question on many minds is whether Cheney has the heart for the job,' said MSNBC.com columnist Arthur Caplan, head of the Center for Bioethics at the University of Pennsylvania in Philadelphia. Cheney said that if he ever learned that his heart disease would interfere with his ability to perform his job, 'I'd be the first to step down.'" "An implantable cardioverter defibrillator, or ICD, is a small, lightweight electronic device that is implanted under the skin of the chest or abdomen. The device shocks the heart back into normal rhythm, slowing down or halting excessively rapid heart rates. " "clearly the complexity of his cardiac disease is increasing. One must be vigilant in such cases." [Dr. David Meyerson]
Cheney & Transits, June 30, 2001
Commentary
"'No, I don't think he ought to slow down,' Bush said. 'I think he ought to listen to his body, which he has been doing.' [Bush spoke with Cheney by telephone right after the procedure."] -- per MSNBC online.
Cheney, who has lost 25 pounds since November, 2000 through diet and exercise, is listening to his body. The White House's unending denial over the seriousness of Cheney's condition could claim his life before year's end. If you've been following Dick's Ticker from Starcats' Election 2000 archives and "Cheney's Heart &amp Sun Square Pluto," [March 2001, below], you'll see that Cheney gets hospitalized about every 90 days: November 22, 2000, mild heart attack March 11-12, 2001, angioplasty June 30, 2001, cardioverter defibrillator implanted This is not the portrait of a VEEP in robust health.
The Bi-Wheel Yod Configuration
The USA's third house 27 Aquarius Moon falls in Cheney's sixth house of health. Transiting retrograde Uranus (24 Aquarius) also conjoins Cheney's natal Mercury, linking the three into the following portrait: USA Moon-T-Uranus-N-Mercury: a cardioverter defibrillator implantation. Transiting Mercury in Gemini in trine to the aforementioned (Cheney's 10th house) indicates that a) the implantation would be successful; and b) we'd hear about it in the news.
Cheney's N-Chiron (27 Cancer, 11th house) falls in the USA's 8th house of potential loss. It conjoins the USA's part of fortune, Vertex (fated relationships) and Mercury, which quincunx Cheney's natal Mercury, T-Uranus and the USA's Moon.
The quincunx, more commonly known as an aspect of "adjustment" or "sacrifice," makes Bush's statement, "No, I don't think he ought to slow down . . . I think he ought to listen to his body, which he has been doing," appear all the more heartless. The fact that Cheney's Chiron also conjoins Bush's natal Saturn (26 Cancer) and opposes the USA's natal Pluto (27 Capricorn) spells jeopardy: Bush's dependence upon the wiser man (Saturn) takes unfair advantage (Cheney's Chiron) through powerful coercion (Pluto). This is not to say that Cheney is a victim. Cheney (and perhaps Bush) are in denial (Neptune at 27 Virgo in Cheney's first house completes the YOD) as to how serious Cheney's condition really is. It appears that if the White House says (Mercury) that Cheney is fit, the speaking will make it so.
Cheney's Neptune, in trine to his Midheaven (public spin) currently takes the trine from transiting Venus (26 Taurus as of July 2 - CAPUT ALGOL). This trine sets off the YOD configuration, and we may hear more in regards to Cheney's condition by as early as July 5th. Venus will conjoin ALYCONE (29 Taurus), the star of great grief. July 5 marks the Lunar eclipse which conjoins the USA's Sun and Bush's 12th house Sun. Whether this will pertain to Cheney's health or to a political situation he is called to handle under great duress remains to be seen.
Venus, at 24 Taurus on the day of Cheney's surgery, conjoins the Inauguration chart's Saturn: 24 Taurus (retrograde) in square to Inauguration Uranus. Inauguration Chiron (24 Sagittarius) is supercharged again via retrograde. On the day of Cheney's surgery, Chiron again reached that point.
Cheney's Mars Return
March 12, 2001 Starcats Reported:
"Cheney's natal Mars takes 3 "Mars Return" hits this year vis a vis its retrograde cycle. T-Mars conjoins T-Pluto on Friday, March 18 (15&deg Sagittarius). Whatever issues Cheney faces at that time are bound to further tax his heart."
Transiting Mars, at the time of Cheney's surgery, made its second hit to his natal Mars (17 Sagittarius). The third and final hit, via direct motion, is August 6, 2001. Cheney doesn't have much of a window between now and then. By August 12, retrograde Uranus will perfect its square to Cheney's natal Uranus (22 Taurus), the same position in which it resided when Cheney had his angioplasty.
Watch this space. The Cheney story continues to develop.
Starcats, July 1, 2001
---
Cheney's Heart &amp Sun Square Pluto
Revised 3/12/01
Cheney's Moon at 22 Pisces 41 is well within an acceptable orb of a square with his natal Mars. T-Uranus at 22 Aquarius, the disruptive transit that launched the VEEP's recent angioplasty, will remain in square to his natal Uranus (6th house/health issues) all year. Uranus brings sudden eruptions, and when located in the 6th house, its message (Cheney's Mercury is 24 Aquarius) is delivered through disruptions in systemic functions. Overwork and its resultant stress-related illnesses (associated with Aquarius on the 6th house cusp) are mirrored through Cheney's 12th house Leo: hospitalization for "matters of the heart." The aforementioned "mirror" wouldn't reflect this all on its own. The hook up is derived from the VEEP's 6th house Aquarian Sun (Leo's ruler) in T-Square to his Jupiter-Saturn conjunction in Taurus which squares his natal Pluto in Leo. His Sun's opposition to Pluto completes the "T". Driving Saturn and expanding Jupiter are the release points of the "T's" bound energy located in his 9th house of law and political ideologies. Jupiter's transit through Gemini (and Saturn's upcoming Gemini Ingress) eventually impact Cheney's natal Mars via an opposition in 2001. As mentioned above, Cheney's natal Mars takes 3 "Mars Return" hits this year vis a vis its retrograde cycle. T-Mars conjoins T-Pluto on Friday, March 18 (15&deg Sagittarius). Whatever issues Cheney faces at that time are bound to further tax his heart. The Washington's political scene will heat up this week as Dubya's adminstration encounters its first explosive opposition by the Democrats since inauguration. Dubya's tax cut plan will come under fire, a pot boiler that may end the traditional "100 day honeymoon" early. The VEEP (president of the Senate) has a Pisces Moon. No matter what the Republican spin machine says about Cheney's "robust health," his 7th house Pisces Moon absorbs the disharmony in all relationships and depletes him. Saturn's application to a conjunction with Cheney's Midheaven may act as limiter to Cheney's stamina. The pull on Cheney's physical resources as vice president may extract a price higher than either the VEEP or Dubya want to pay. Cheney is a "driven" performer and is typically described as a "TYPE A." His Midheaven (27 Taurus) trines his retrograde Neptune in his first house. Cheney may be in more denial over the seriousness of his heart ailment than we know. December 14, 2001's Solar Eclipse (22 Sagittarius) quincunx's Cheney's natal Uranus and squares his natal Moon. Two days before that, T-Mars will reach the degree of Cheney's natal lunar nodes (North 2 Libra/South 2 Aries). His South Node is in his 8th house and is trined by his natal Pluto. This is Cheney's pivotal year. As difficult as it would be for Cheney to resign, if he does so it may save his life. More on Cheney: The Vice President's Health by Nancy Lubar Sommers, LCSW-C.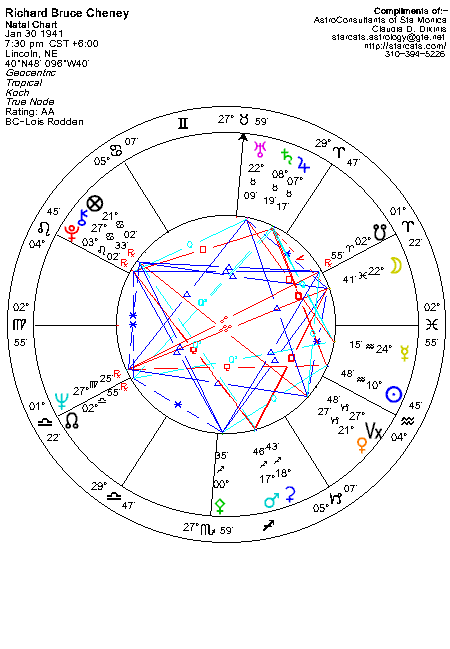 Sun Square Pluto
1:11 PM EST +5:00
Washington, D.C.
38N53 077W02 Asc: 17 Cancer

Note: The Ascendant for Monday's Sun square Pluto ("Second Event") is 17 Cancer. That is the degree of Venus (17 Pisces) for Inauguration 2001 and also the degree of the Moon (17 Pisces) for Opening of the Polls, November 7, 2000, 12:01 AM, Dixville Hotch, New Hampshire. On November 22, 2000, the first time Cheney experienced chest pains, Chiron was at 17 Sagittarius, Uranus at 17 Aquarius, and the Moon (4:00 AM time reported for Cheney's drive to the hospital) was 17 Libra. Since Cheney's natal Mars is 17 Sagittarius, 17 degrees of the signs are potent for the VEEP, especially in light of the following:
Progressed Jupiter: 17 Taurus;

Solar Arc Mars: 17 Aquarius;

Tertiary progressed Mars: 27 Aquarius, quincunx Cheney's natal Neptune in the health sign, Virgo;

Dubya's progressed South Node is 17 Sagittarius in the progressed chart's fourth house of endings;

Cheney's natal Mars conjoins Dubya's progressed South Node; and
Cheney's Mars squares Dubya's Solar Arc Saturn (18 Virgo).
The fate that drew the two men together may also be that which separates them. Mars, retrograde in 2001, makes three passes over Cheney's natal Mars. Uranus's retrograde cycle for 2001 keeps it hovering around 21-22 degrees of Aquarius in square to the VEEP's natal Uranus. Mars-Uranus are explosive players, and it seems evident as to the manner in which the two are most likely to manifest. Transiting Mars's three hits to Cheney's natal Moon are not supportive of the VEEP's capacity to endure a four-year term of office. Without Cheney, Bush's Residency treads on more unstable ground. Cheney is the real brains behind the operation, and as I stated in Dick's Ticker, Cheney may not have the "heart" for it. He had a quadruple bypass 12 years ago (one Jupiter cycle), and this is the second time in four months Cheney has needed angioplasty on the same artery. Cheney's birth time is not known, therefore, ascertaining the exact degree in which Mars will make its three squares is guesswork. In light of Monday's Sun-Pluto square at 15 Pisces and Sagittarius, respectively, we may learn that Cheney's natal Moon lies somewhere between 15 Pisces and 19 Pisces.
Bi-Wheel: Cheney &amp Inauguration 2001